MANURHIN
Since 1998, The French company, Chapuis-Armes, is honored to produces and distribute the legendary Manurhin revolvers.
Since the beginning of the Manurhin adventure and as part of a continuous production improvement program, Chapuis-Armes has not ceased to invest in its production tool in order to modernize the procedures while maintaining the supply of the highest quality steel
Chapuis-Armes has now, a park of 5 axis CNC machine used to mechanize the frames, cylinder and barrels of each revolver.
These high-performance machining methods associated with three-dimensional metrological control enable a production quality that we have raised to the highest level of metallurgy standards.
Each MR73 and MR88 revolver is manually assembled and adjusted in the best tradition of high-grade gunsmithing.
By improving its production processes and the quality of manufactured revolvers, Chapuis-Armes facing an constant increasing demand, continues to promote through these Manurhin revolvers a legend of French armory's heritage.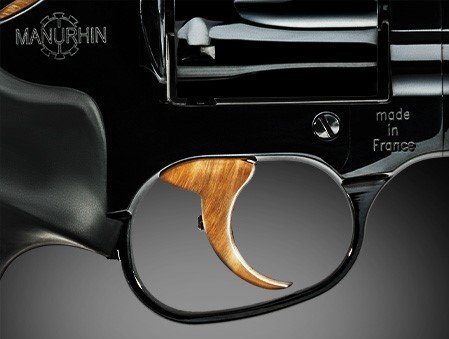 ADJUSTABLE TRIGGER FOR OVERTRAVEL & WEIGHT
All Manurhin MR73 series revolvers feature a triple adjustable trigger with an overtravel screw built into the trigger and a hammer force adjustment screw and a hammer spring weight-adjustment screw built into the frame.
This high level of adjustability allows for the shooter to dial in the trigger to the precise specifications needed for maximum control over the shot.
FRAME, CYLINDER AND BARRELS
The use of high-end specific steels as well as the mechanization carried out on our CNC 5-axis machines allow us to obtain an unmatched manufacturing accuracy.
Our frames are fully machined from forged ordonnance-certified steel billets for total reliability.
The cold hammer-forged barrel allows for super long life, enhanced durability, and world-class accuracy. Cold hammer-forging processes provide the highest level of repeatability and consistency possible in the industry and are the standard for Manurhin revolvers.
Final chamber finish is conducted by a specific impact process that ensures glass-smooth chamber walls a very high hardness for extreme accuracy and long service life.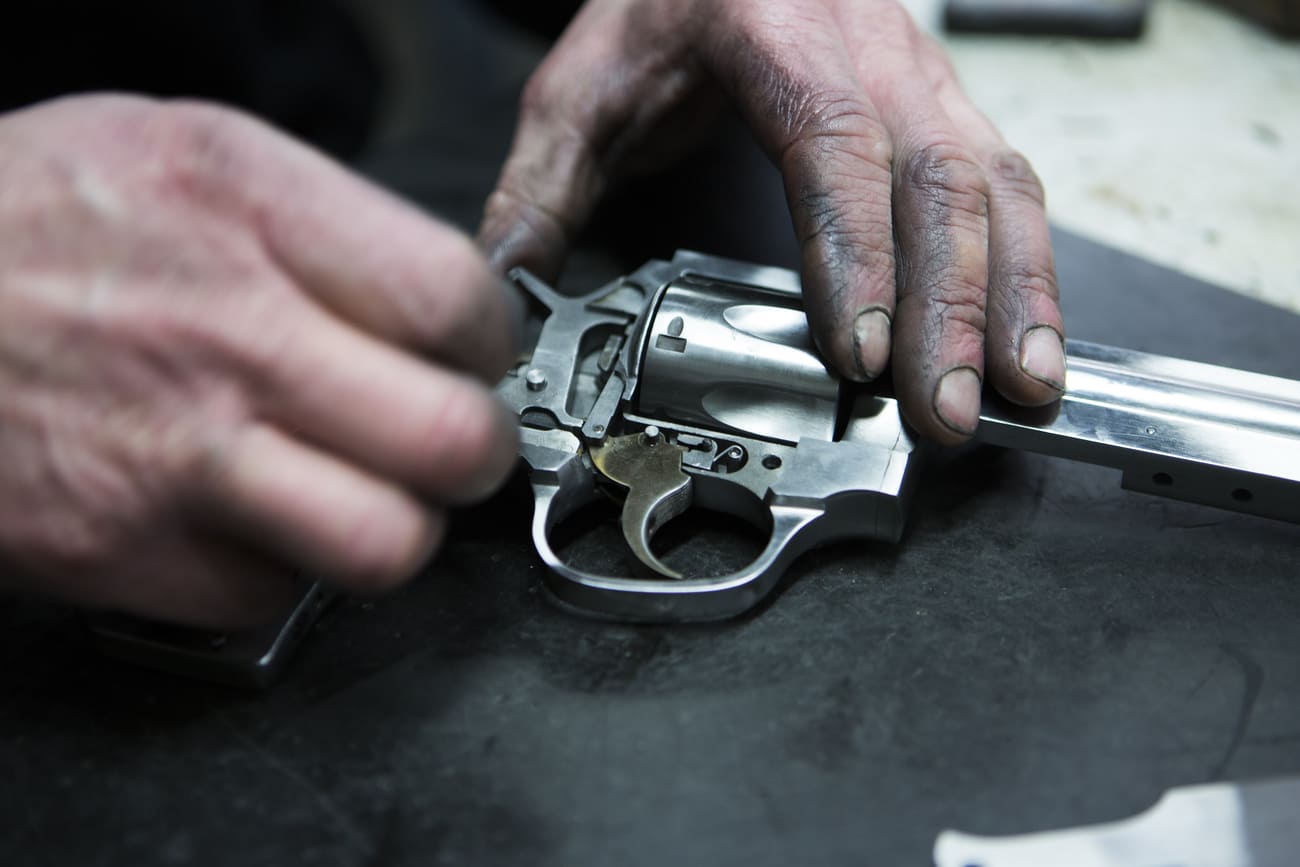 HAND-FITTING
The hand Fitting as well as final mirror polishing and finishing are entirely done by hand. Our master gunmakers have a long experience in the precision work involved.
Each single step will be controlled in the frame of our continuous control procedure.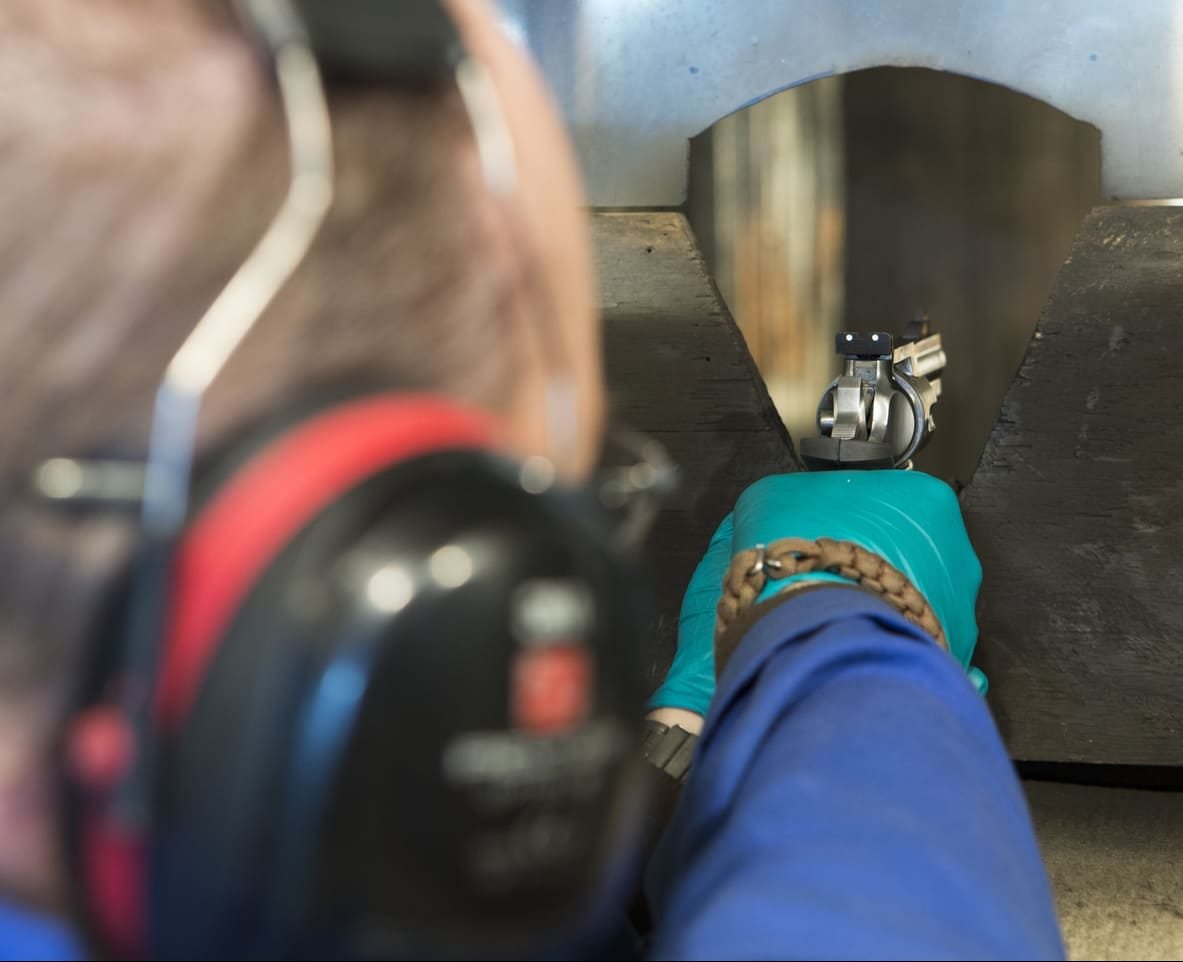 MR73 PROOFING AND TEST FIRING
• CIP Test Shooting: Every chamber is proof-fired with ammo generating 30 % more pressure than the CIP maximum allowable pressure for the .357 magnum cartridge. (CIP Rules)
• Function testing is conducted by our Manurhin master gunsmiths, with special attention given to trigger pull weight, adjustment range, timing and lock up in SA and DA
• Accuracy testing for all the revolvers. The MATCH revolver will be shipped with a factory test target which grouping should shows 6 shots within a 20mm (0,8 inch) circle at 25 meters.
Every Manurhin revolver is fired an average of 24 times at the plant
CHAQUE ARME
EST UNE PIÈCE
UNIQUE
RÉALISATION SUR-MESURE SELON
3 NIVEAUX DE FINITION :
CLASSIQUE
ARTISANAL
GRAND LUXE